The PIT SHARK™ is an incredible Strength and Mass builder used to train "Old School" Movements safely and efficiently.
It's Commercial Grade and is ideal for large groups or an entire squad of Athletes.  Everything old is new again when it comes to the advanced design of the PIT SHARK™.  Fully adjustable handles allow excercises to be done off the floor, on the foot pads, or on an optional Close Stance platform.  Use with Body-Weight or hook up to the PIT SHARK™ for as heavy as you like Weight-Loaded movements with the fast, easy Speedhook Belt (included). The PIT SHARK™ removes the time-wasting Set-Up required and improves the safety of doing Body-Weight and Weight-Loaded Squats, Chins, Dips, and Calves.
Available in two frame sizes: Short and Tall.  The tall version is available with two different handles sizes: Standard 1.5" and Fat 2" diameter handles.
Each Pit Shark is made to order.  Please allow approximately 4-6 weeks for delivery.
These are the standard options for each unit: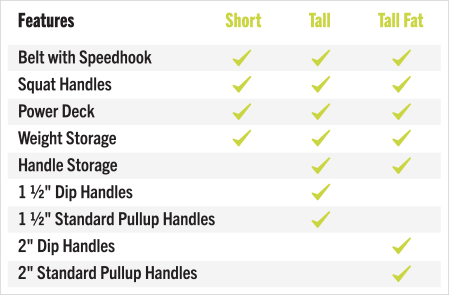 Specifications:
Short Frame: 60 (h) X 62 (w) X 66" (l)
Tall Frame: 94 (h) X 62 (w) X 66" (l)
Orders under 150lbs total weight will be shipped UPS, FedEx or USPS.
Orders over 150lbs total weight will be shipped freight (SMW will not ship freight outside the continental US)
Show Me Weights uses various Freight carries to provide the best possible service and price for your shipment.
You CAN set up your own freight, but a BOL must be provide before the time of pick up, and palletizing fees may apply.
For the most accurate freight quote, call 636-326-1885 and press the SALES extension. 
Orders paid with your PayPal account can ONLY be delivered to the address on the PayPal account.
Tracking information will be given upon request.
Items ordered online can be picked up in the store at no additional cost.
Show Me Weights can be deliver and install products within the St. Louis Metro Area. Pricing varies per item. Call for a quote.