True ES700 Recumbent Bike with Transcend 9" Touch Screen
Contact Show Me Weights at sales@showmeweights.com or at (636) 326-1885 for additional information about this product.   There are multiple options available for the monitors.  Message us for additional info. 
Built from top-quality, commercial-grade materials, the True ES700 Recumbent Bike offers a sturdy and smooth cycling experience, allowing users to easily vary routine and quickly adjust for comfort. Convenient thumb controls allow quiet pedal resistance. Seat adjustment is effortless thanks to a wrap-around adjustment handle. The True ES700 Recumbent Bike is the perfect mix of hard-core durability and refined comfort, inviting you to exercise.
2 Consoles Available! – Including the new Transcend9
 

Console!

EmergeLED Console (standard)

The True ES900 Upright Bike comes stock with the True EmergeLED Console, which features a simplistic design that is inviting and offers easy navigation. EMERGE™ appeals to those users who want to focus on their workout and make the most of their exercise time. EMERGE™ offers advanced simplicity to make your home fitness routine exactly what you want it to be.
Provides pertinent information in an easy-to-read presentation
9 Preset Workout Programs
Wireless Heart Rate Monitoring
Self-Generating Power
Equipped with a Reading/Accessory Rack for your tablet, magazine or book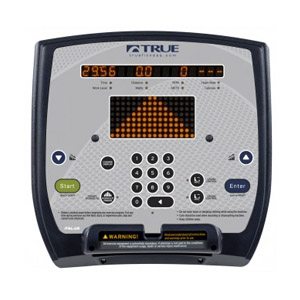 Transcend9 Console (optional)
The optional all-new True Transcend9 is the highest in home fitness technology innovation. TRANSCEND™ has intuitive navigation, programs for all levels, and all-encompassing entertainment. TRANSCEND9 is the pinnacle of cardio consoles…the ultimate console.
Touch Screen Technology
Advanced Bluetooth Connectivity and Technology for Audio, Heart Rate, and App Communication
Wireless Heart Rate Monitoring
6 User Profiles
20 Workout Programs
Bike Mode Capability: user can convert from a level program of an indoor exercise bike to gear mode program similar to a road bike
Wahoo Run Fit App Connectivity for Workout Data Compatibility (Nike+, Garmin, Strava)
Over Molded Reading Rack and Tablet Holder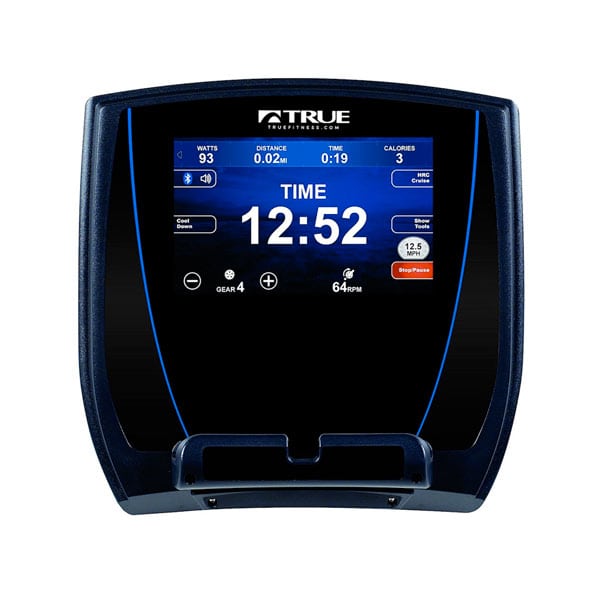 Premium Recumbent Exercise Bike for Your Home The ES700 Recumbent is manufactured with commercial-grade and finer components for a solid, durable, intuitive riding experience. From the positioning of the seat adjustments to the contour of the elastic mesh seat, TRUE created a recumbent bike worthy of the TRUE name, perfect for your home gym. Comfort and Ease of Use The walk-through design of the True ES700 Recumbent Bike accommodates users of all fitness levels. Its kick plates protect step-over traction as well as step-through access. TRUE has taken the traditional mesh seat to the next level with an all-new elastic mesh material that offers one of the most comfortable rides in the industry.  This same material is used in commercial office chair applications and is custom engineered for optimal comfort and long usage. All seat adjustments are easy to identify in their TRUE blue color.  The wrap-around adjustment accommodates users of various sizes and makes seat customization easy to manage. Control at Your Fingertips Convenient thumb controls located on the contact heart rate handlebars provide an innovative approach to user interface.  Easily adjust your workout intensity on the seat-side handgrips so you can remain in your comfortable position throughout the whole workout. Small Footprint for Maximum Space Efficiency The True ES700 Recumbent Bike is one of the smallest walk-through bikes in the industry, allowing you to maximize your workout space at home. Heart Rate Controlled Bike Workouts TRUE HRC Cruise Control™ allows you to lock in on your targeted heart rate. Once your target is entered, one touch TRUE HRC Cruise Control™ will adjust speed and incline automatically throughout the duration of your workout to maintain your target heart rate, just like the Cruise Control in your car.
Product Highlights:
TRUE HRC Cruise Control™ for heart rate monitoring
Convenient thumb controls for quiet pedal resistance
Reclining Fatigue Resistant Elastic Mesh Seat Back with Conforming Lumbar Support and 24 Position Settings
Reinforced walk-through design
CONSOLE OPTIONS
| | | |
| --- | --- | --- |
|   | | |
|   | Transcend9 | Emerge |
| Screen Type | 9" Capacitive Touch Screen | Orange LED |
| Secondary Integrated LCD |   |   |
| ENTERTAINMENT |   |   |
| Bluetooth Connectivity | Audio, Headphone, App Communication, and Heart Rate |   |
| 3.5mm Headphone Jack | • |   |
| Responsive Tactile Buttons |   | • |
| Over Molded Reading Rack/Tablet Holder | • |   |
| PROGRAMMING |   |   |
| Total Workouts | 20 | 11 |
| Saved Workouts | 10 | 0 |
| Heart Rate Control Programs | • | • |
| HRC Cruise Control | • | • |
| Bike Mode | • |   |
| Wahoo Run Fit App Connectivity | • |   |
| WORKOUT SUMMARY |   |   |
| USB Download | • | • |
| SERVICE |   |   |
| Software Updates via USB | • | • |
| Self Diagnostics | • | • |
| POWER CONSERVATION |   |   |
| Sleep Mode | • | • |
| CSAFE Power | • | • |
| Self-Generating |   | |
| LANGUAGES |   |   |
| English | • | • |
| WARRANTY |   |   |
| Warranty | 7 Years | 3 Years |
Warranties outside the U.S. and Canada may vary.
Footprint:

 

58"L x 26"W (147 cm x 66 cm)
Machine Weight:

 

163 lbs. (74 kg)
Maximum User Weight:

 

350 lbs. (159 kg)
Portability:

 

2 Front Transport Wheels
Power Source:

 

110V/15A
Cord Length:

 

8' (2.4M)
Drive Motor:

 

Single Stage Drive System with Poly-V Belts
Crank:

 

3-Piece Forged Steel Crank System with Sealed Bearings
Resistance Source:

 

Eddy Current Brake
Resistance Levels:

 

25 (Emerge), 30 (Escalate9)
Workload Range:

 

40-450 Watts
Frame Construction:

 

Robotically Welded Heavy-Gauge Steel
Pedals:

 

Dual Sided and Weighted with Integrated Ratcheting Strap
Seat:

 

Reclining Fatigue Resistant Elastic Mesh Seat Back with Conforming Lumbar Support and 24 Position Settings
Handlebar Design:

 

Two Positions with Moisture Resistant Sleeves
Quick Access Control:

 

Multi-Function Thumb Controls
Contact Heart Rate Monitoring:

 

Yes
Wireless Heart Rate Monitoring:

 

Polar® Compatible
Orders under 150lbs total weight will be shipped UPS, FedEx or USPS.
Orders over 150lbs total weight will be shipped freight (SMW will not ship freight outside the continental US)
Show Me Weights uses various Freight carries to provide the best possible service and price for your shipment.
You CAN set up your own freight, but a BOL must be provide before the time of pick up, and palletizing fees may apply.
For the most accurate freight quote, call 636-326-1885 and press the SALES extension. 
Orders paid with your PayPal account can ONLY be delivered to the address on the PayPal account.
Tracking information will be given upon request.
Items ordered online can be picked up in the store at no additional cost.
Show Me Weights can be deliver and install products within the St. Louis Metro Area. Pricing varies per item. Call for a quote.